1 Plan: 3 Falls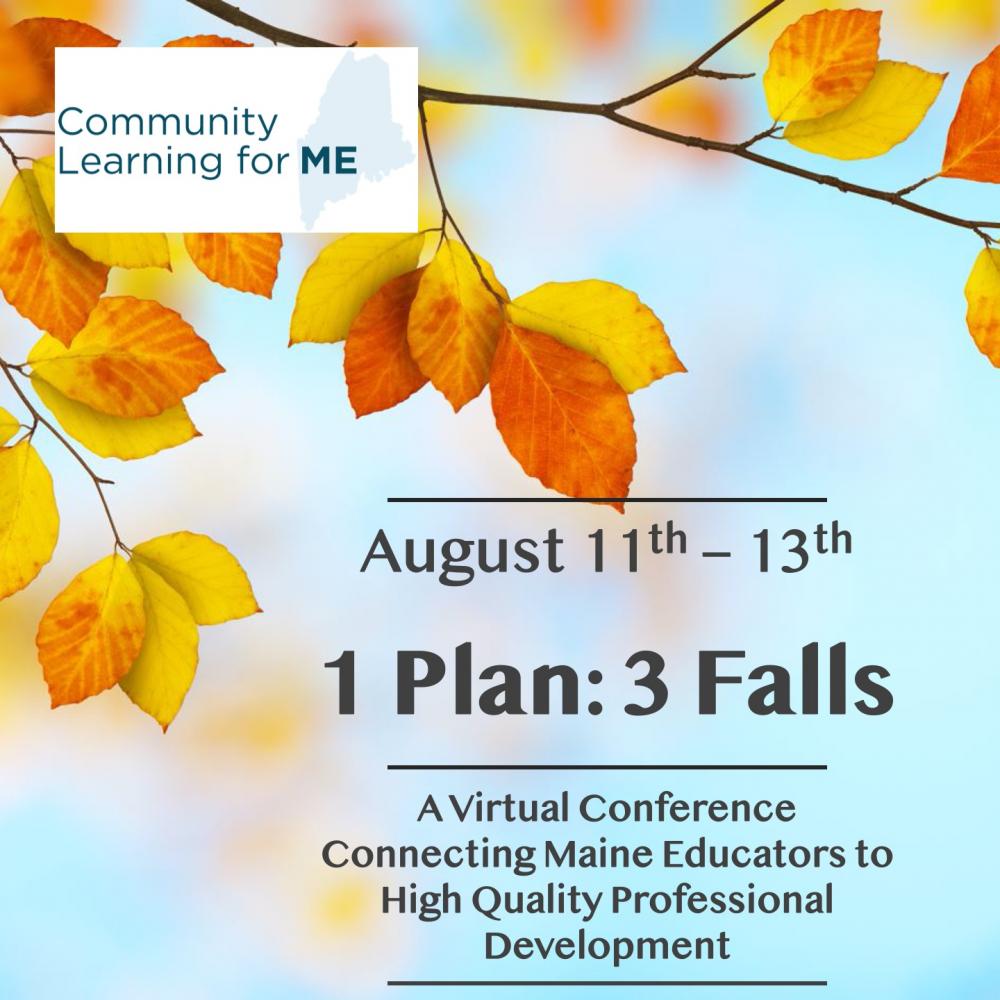 We had an unbelievable 3 days of Maine organizations offering workshops for 1 Plan: 3 Falls.
The sessions are being archived and added below. Looking for something specific? Email val@ruralaspirations.org.
Educators across Maine are approaching a new year with new challenges due to COVID-19.  The Community Learning for ME team curated a 3-day virtual conference highlighting a wide range of professional development, resources, and supports for Maine educators.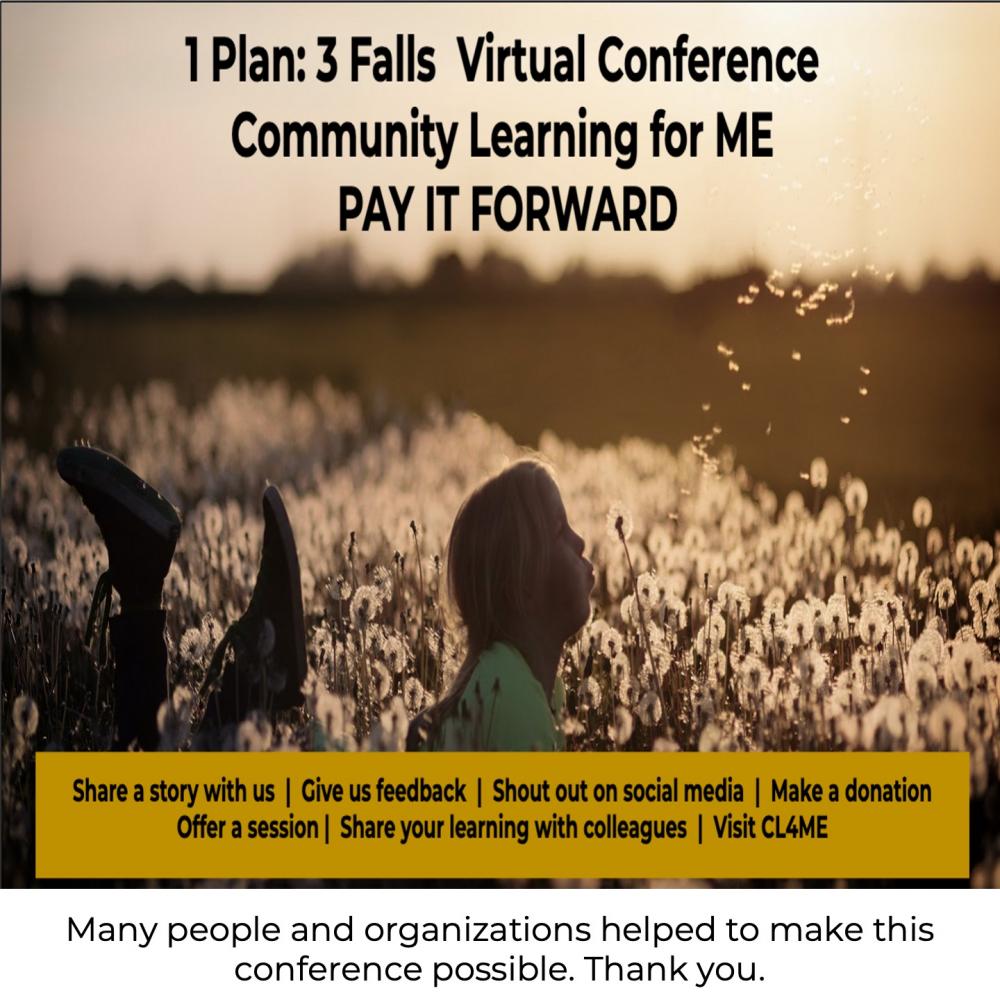 Pay it Forward
Thank you to CL4ME funders: Grassroots Fund, The Elmina B. Sewall Foundation, The Onion Foundation & Leonard C & Mildred F Ferguson Foundation
If you would like to acknowledge the work and pay it forward, you can:
Share a story or take away with CL4ME and/or the session presenters

Complete feedback/evaluations for CL4ME and/or session presenters

Shout out to CL4ME and/or the session presenter on social media

Share the resources with your colleagues

Make donations to the organizations who contributed to this conference (click their icon in the workshop description)
Archived Conference Sessions
Teach the Indoor Curriciulum Outside: Support Students' Emotional Well Being, Keep Students and Teachers Safer, and Strengthen Instruction
This workshop was presented on August 11, 2020  by :
Erica Beck Spencer: Curriculum Developer and Professional Development Specialist  Full Option Science System (FOSS), Lawrence Hall of Science
Anne Stires: Director of Development, Outreach, and Advocacy, School Founder of Juniper Hill School for Place-Based Education
Join us to gain confidence using the schoolyard to teach your everyday curriculum while keeping students (and teachers) safer, improve their emotional well being, keep them energized and engaged, while also improving their grasp of the content. This research-based effective teaching strategy can be part of your return-to-school plan for the 2020/2021 school year and we hope this session will inspire educators to embrace this practice well beyond the upcoming year. You will learn effective student and materials management strategies for outdoor learning, consider how to better utilize your school grounds, and gain confidence and commitment to teaching in the outdoor space.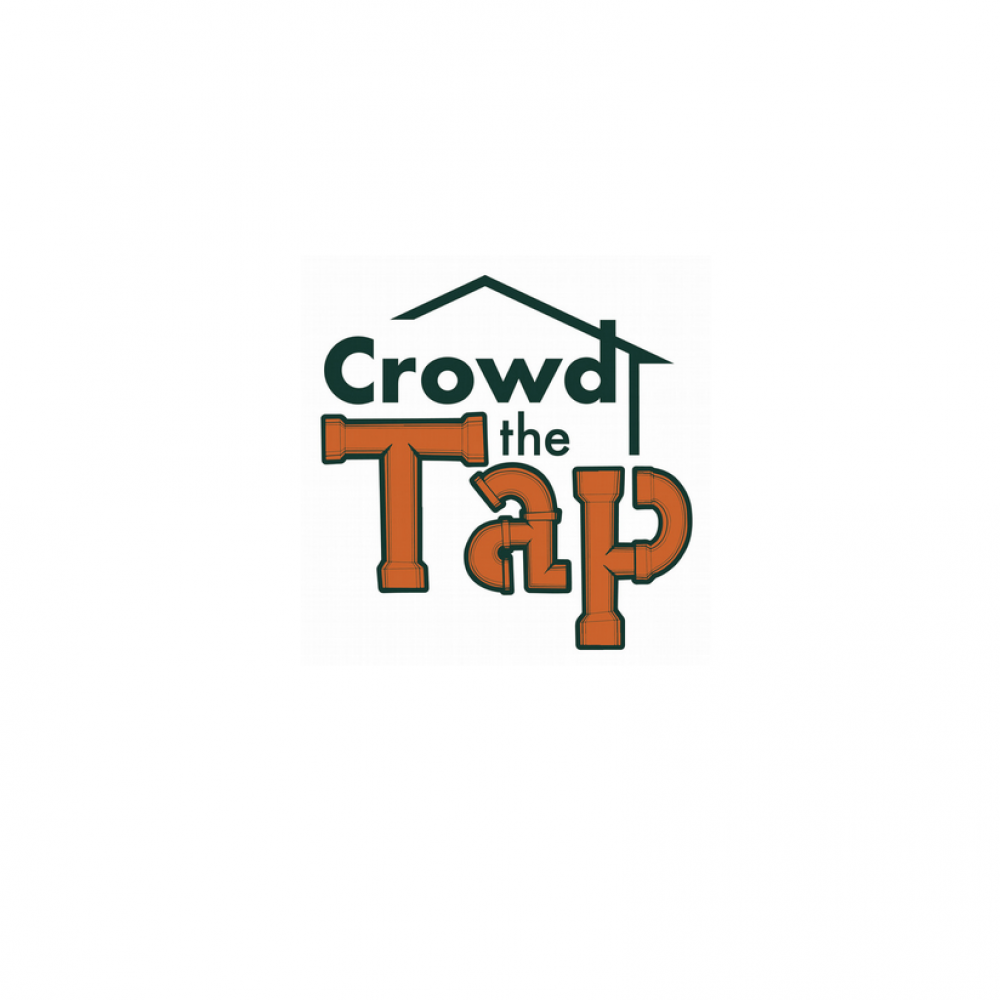 Crowd the Tap in Maine - Sustaining Learning in and Out of School
This workshop was presented over 3 days August 11-13th by :
Bill Zoellick, Educator Emeritus and Sarah Hooper, Education Specialist Schoodic Institute at ANP
Crowd the Tap is a nationwide citizen science program aimed at promoting access to safe drinking water by supporting investigations of local drinking water delivery systems and of the quality of the water that comes out of the tap. In this series of sessions, teachers will explore the use of Crowd the Tap as the foundation for interdisciplinary learning that can continue whether students are working in a school or from home.
Over the three Zoom sessions, teachers will learn more about Crowd the Tap, work together to explore the kinds of data that students will collect, and discuss how to continue working together to implement the program this fall.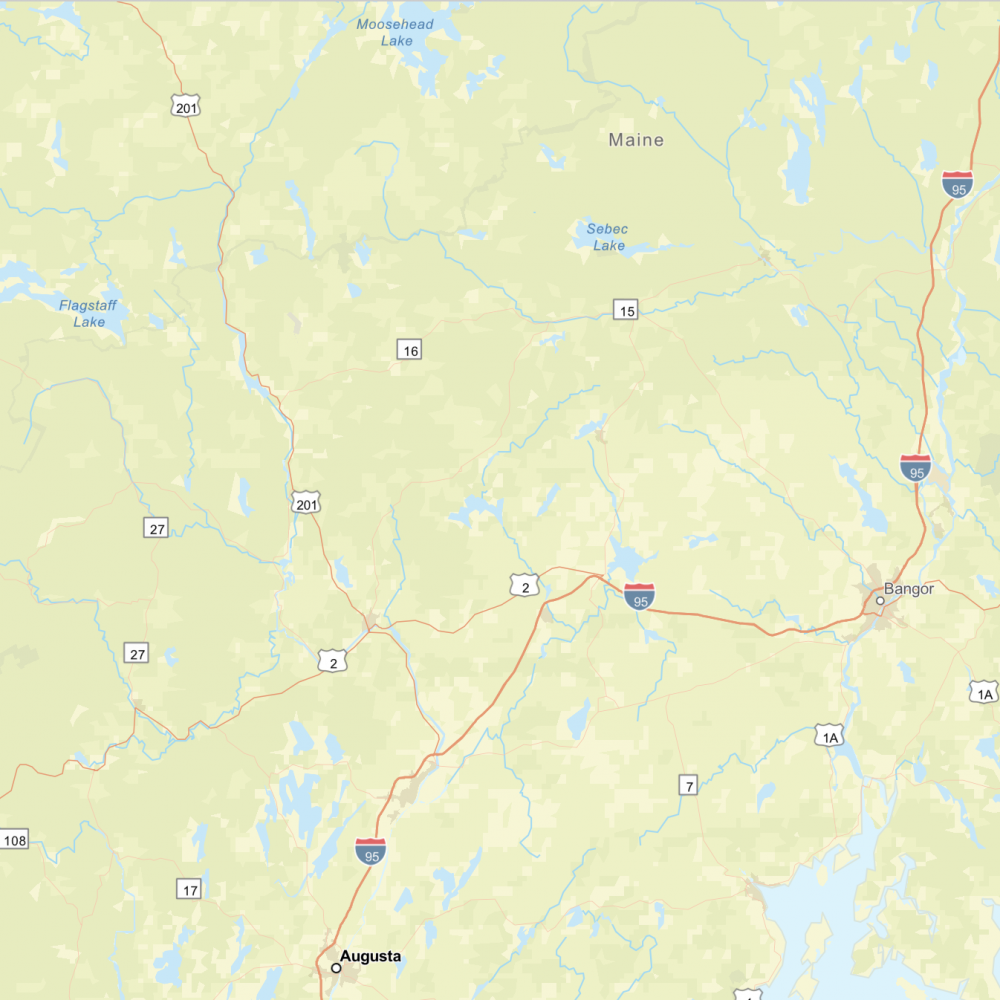 Easy to Use Online and Field Mapping Activities for the Classroom OR Remote Instruction
This workshop was presented on August 11th by:
Dr. Tora Johnson, director of the GIS Lab & Service Center at UMM
Mapping activities are a great way to support student learning in a wide array of fields from science to math to social studies and even literature. In this hands-on session, teachers will learn to use simple online mapping tools that work on any device and field data collection activities that can be done on school grounds or at home for remote instruction. We will brainstorm ideas for using mapping activities to support learning outcomes and how to incorporate the activities into remote instruction. Students will depart with a wealth of links to ideas and resources, as well as information on getting ongoing support and grant funding. 
Video Coming Soon!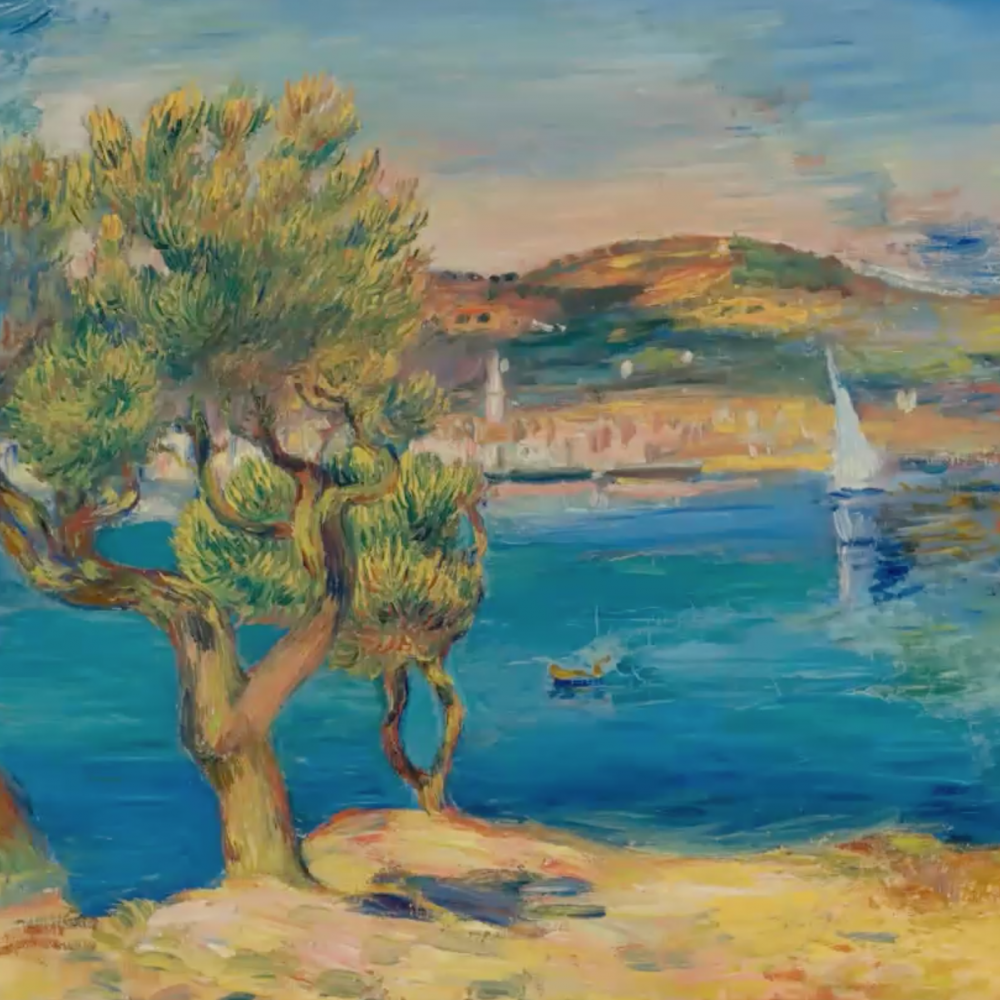 Wednesday Keynote Presentation: Mindfulness in Art
This workshop was presented on August 12th by:
Meghan Quigley Graham, Associate Educator for Youth Learning at the Portland Museum of Art
Begin your day by looking at artwork! Artwork can be a conversation starter, a creative new way to look at things or gain new perspectives, a connection with others or yourself on a new level, and so much more. In this keynote session, we will focus on using mindfulness, specifically the idea of the Beginner's Mind, to explore artwork.
Video Coming Soon!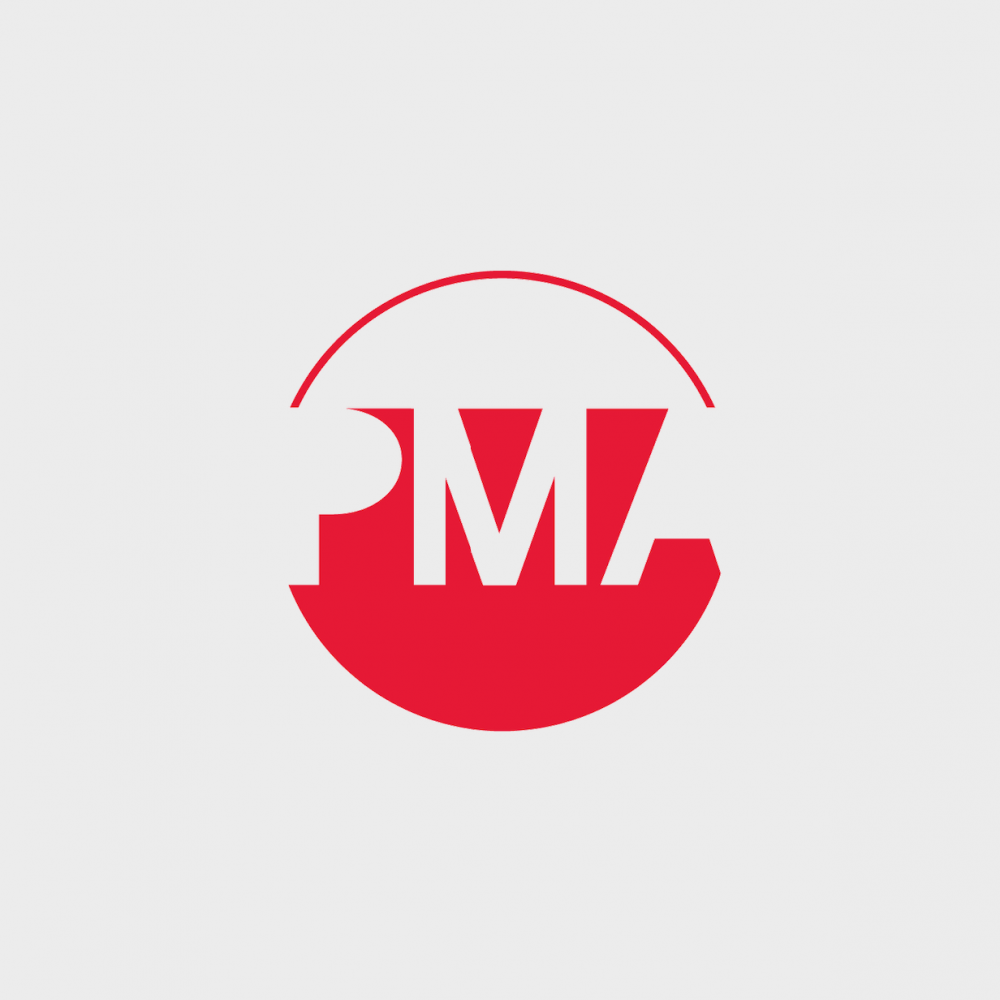 Growing Strategies for Engaging with Artwork Online
This workshop was presented on August 12th by:
Meghan Quigley Graham, Associate Educator for Youth Learning at the Portland Museum of Art
How does working with artwork online differ from experiencing the artwork in-person?
PMA educators will share strategies and tools that have been adapted to teaching with digital images in any setting. Artwork can be used in any classroom or remote learning setting to engage students in diverse ways. It can be a conversation starter, a creative new way to look at things or gain new perspectives, a connection with students on a new level, and a tool for engaging in Social Emotional Learning competencies. In this participatory session, attendees will gain comfort and understanding of how to use artworks from the PMA's Collection in creative and thought-provoking ways to enhance lessons or as standalone activities. We will explore simple tools to engage with artwork, including a framework that will be a part of the PMA's new suite of online resources for educators debuting this fall. Teachers will leave feeling empowered with ideas on how to integrate artwork in their classroom and remote learning lessons, equipped with effective tools and frameworks to lead activities and discussions using artwork. In this digital space, we hope to create a supportive environment focused on participants and their needs and to also connect teachers to educators at the PMA who can be resources at any time.
Video Coming Soon!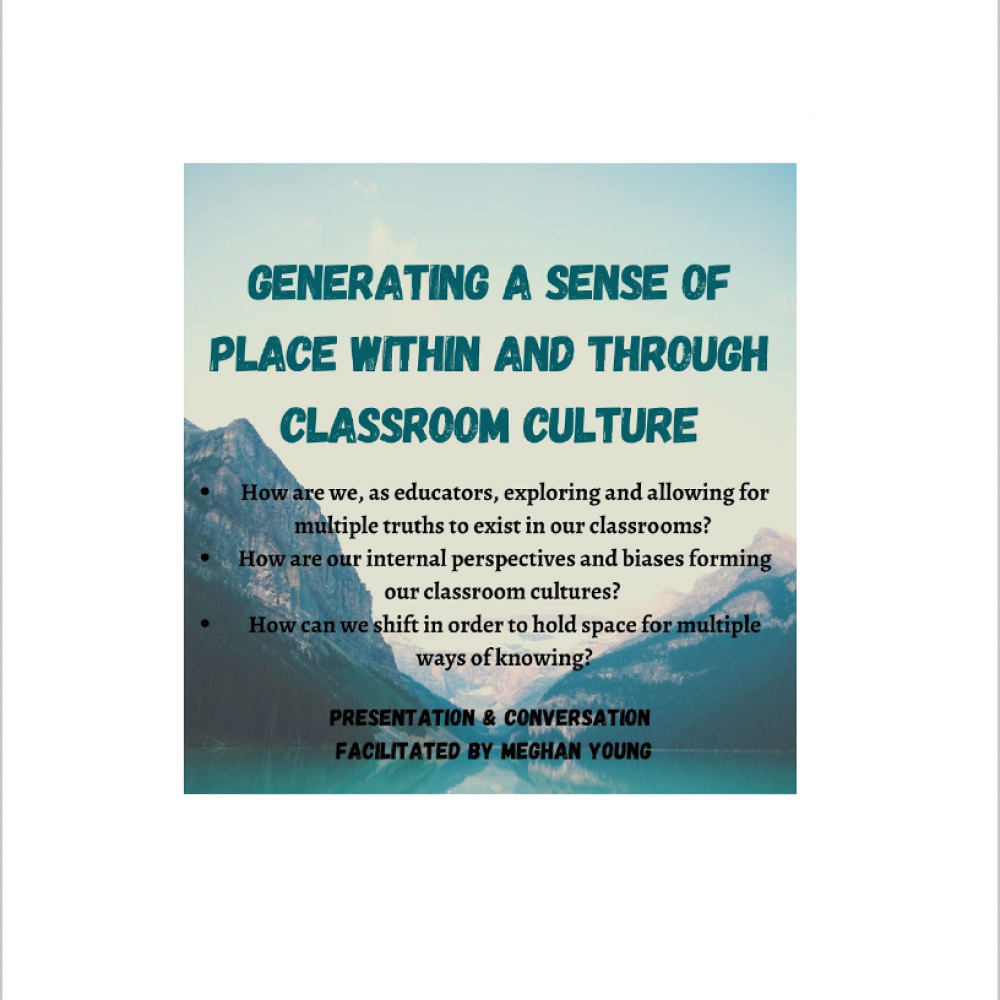 Developing a Sense of Place Within and Through Building Classroom Culture
This workshop was presented on August 12th by:
Meghan Young, Gould Academy & Maine Environmental Education Association
This session will explore the concepts of building relational class culture, providing space for multiple ways of knowing in curriculum design and implementation, and generating and fostering a sense of place within students. I will go through specific examples from my time within this work as a high school STEM educator. Participants will leave with access to a shared Google folder with my presentation and additional resources.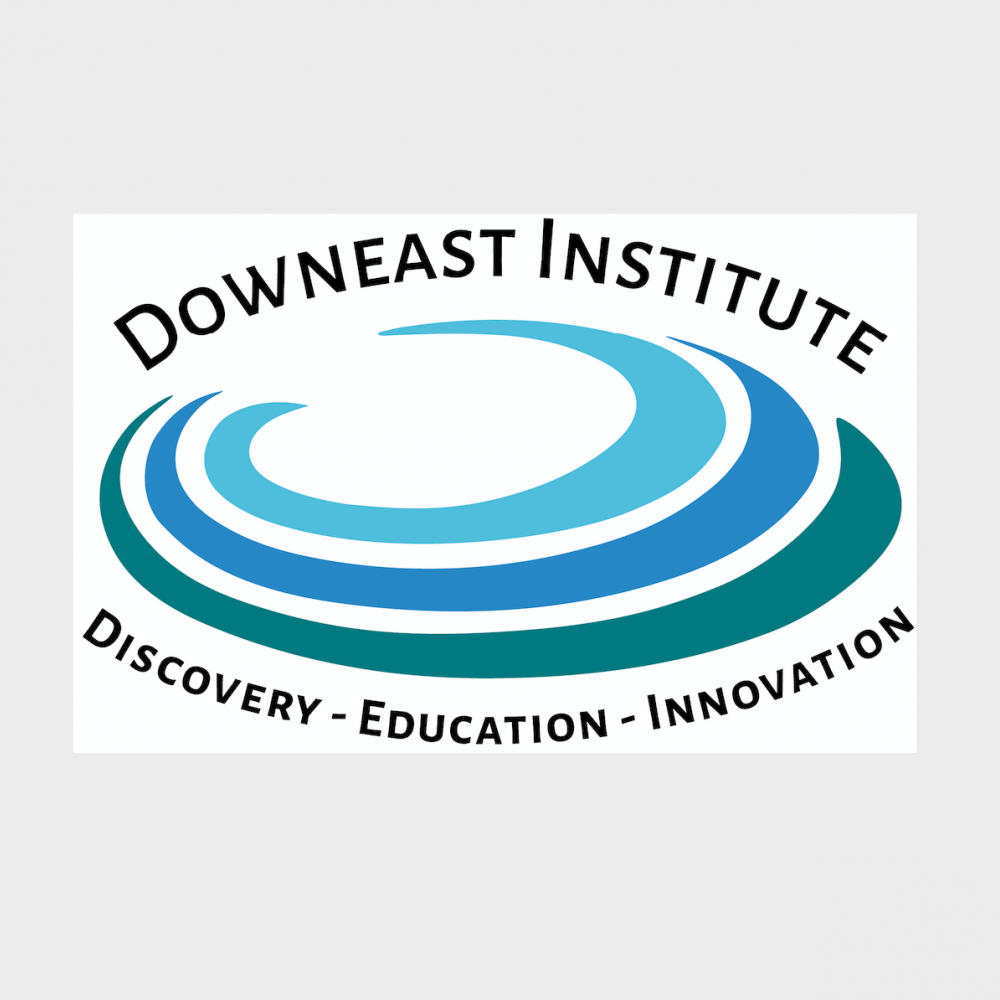 Hands-On Distance Marine Science Lessons
This workshop was presented on August 11th by:
Colleen Haskell, Director of Education at the Downeast Institute
Lynn Alley, Science Teacher for the Downeast Institute
We will be presenting two of our Distance Lessons that you have access to. We will model how to present lessons to students with attendees. After this session, teachers will have access to the lessons, including materials and support from  Lynn and Colleen throughout the school year.  We will focus on the need to have hands-on lessons to reach students who may or may not have access to technology for their lessons. We will show how these lessons can be adapted to the age level.
Video Coming Soon!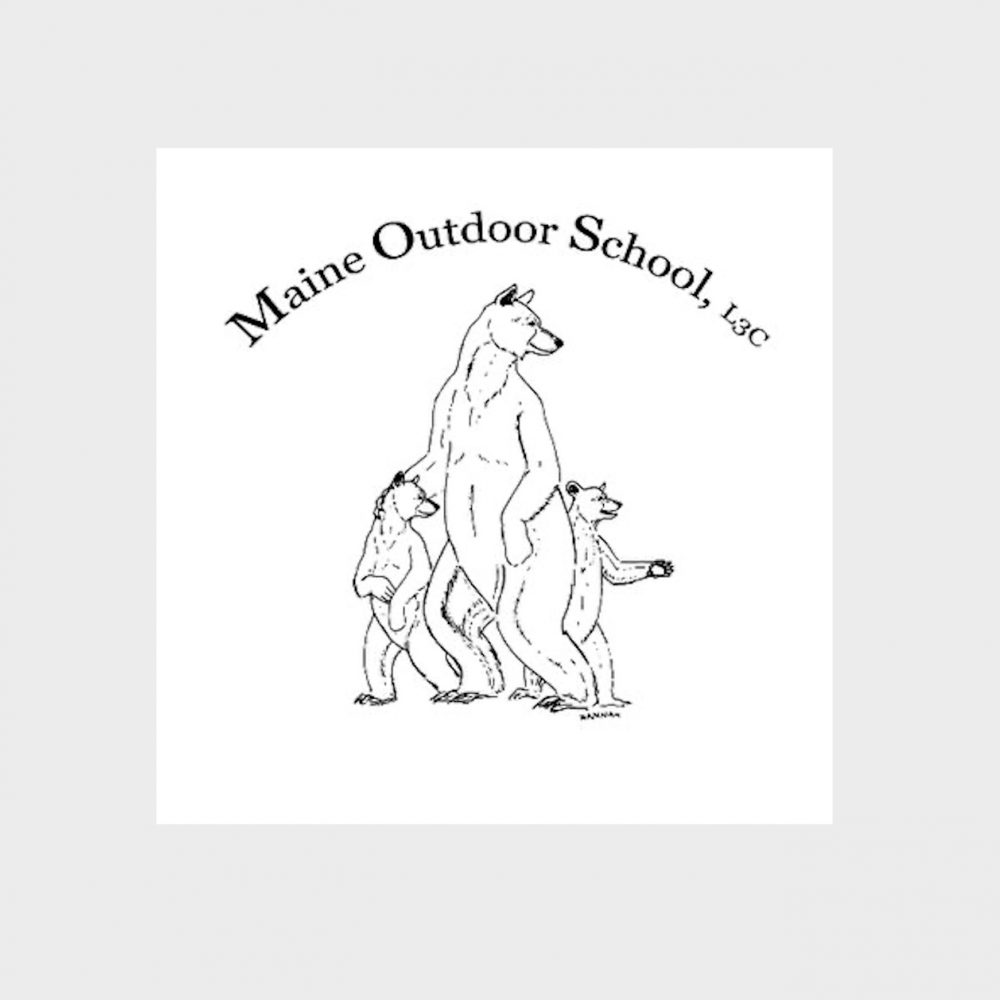 Phenology Projects to Meet Standards and Support Well-being
This workshop was presented on August 11th by:
Hazel Stark, Maine Outdoor School Educator
Phenology is the study of the seasonal patterns in nature, such as when the first peepers start singing or turkey vultures return. Spending time observing these changes outdoors not only supports mental health, but also easily ties into science, math, and language arts standards. In this workshop, participants will learn about the important mental health and academic benefits of spending time outdoors and leave prepared with several phenology projects they can do with students--whether students are in their own backyards or in the schoolyard. Participants will receive access to phenology journal templates and other resources that will help them know what to look for throughout the seasons.
Video Coming Soon!