Teaching with Nature I: An Introduction to Nature Connection and Outdoor Learning (Aug. 11th - 14th)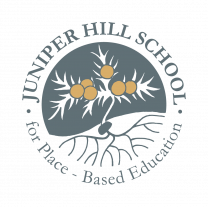 Instructors:
Amy Butler and Anne Stires
Location:
Juniper Hill School for Place-Based Education, Alna, Maine
Educators will be introduced to:
the core routines and daily/weekly rhythms which provide the structure for nature-based programming;

the best practices for risk management and the research that exemplifies the benefits of risk for overall health and development;

the how and why of integrated, emergent curriculum that is the backbone of children's experience, including discussion of flow learning and the importance of observation;

enriching, creative ways to transition, move from place to place, gather, and introduce concepts with the four ancient routines integral to human happiness--story, laughter, song, and dance!
Program Logistics
The workshop begins at 9:00AM on Wednesday, August 11th and concludes on Saturday, August 14th at 2:00PM (August 11th-13th, 9AM-4PM and August 14th, 9AM-2PM).
The workshop will be held daily at Juniper Hill School located at 180 Golden Ridge Road Alna, ME 04535.
Participants are responsible for their own lodging, transportation, breakfast & dinner (lunch provided). Please click here to view local lodging suggestions.
COVID-19 Statement: For the safety of all, we recommend that all participants be fully vaccinated. We will follow all guidance from the CDC for gathering outdoors, daily health check-ins, and wearing masks.