Stress, Anxiety and Burn-Out
Offered by:
November Wellness Wednesdays for Educators
Presenter:
Stephanie LeBlanc, LCSW, CCS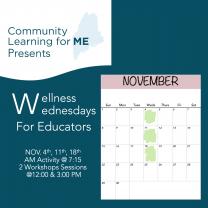 This session will provide psychoeducation on the stress continuum, anxiety and the signs of burn-out. Participants will be supported to self-assess their current stressors and effective utilization of coping strategies. Stress reduction techniques, self-care options and effective coping strategies will be presented and discussed.
Upon completion of this session, participants will be offered an optional free, confidential 30 minute personal consult to explore stress management and behavioral health resources.
Maximum number of registrants: 25