On the Road with Waterville Creates! Gardiner Part 2: Art Dogs Studios
Registration:
None required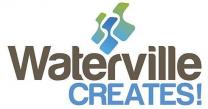 Many of us are lamenting the limitations of travel this summer. Thankfully we live in a state of extreme beauty with many fascinating places to visit. Here at WC!, we realize that there are numerous destinations off the beaten path where we can explore Maine's incredible art, artists, and natural landscape. The On the Road series is designed to explore areas that are art destinations in their own right and/or sites where we can create our own works of art.
In this segment, we will visit Art Dogs and Circling the Square press in Gardiner. The ArtDogs are an arts collective in downtown Gardiner which supports the Circling the Square press and the gallery space. Artists include Karen Adrienne, Scott Minzy, Lynn Braff, Scott King, Lee Arnott, and John Karnes. We will interview and view works by several artists in the studio spaces of ArtDogs and explore some fascinating work!