Reimagining Education Conversation Mar 25
Offered by:
Community Learning for ME
Presenter:
Community Learning for Maine Design Team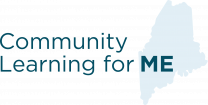 CL4ME presents structured, collaborative practices to discuss opportunities to reimagine education in Maine.

While many individuals and families are struggling to manage the logistics of COVID-19 for our children and students, the pandemic has also revealed the problems and inequities of our current education systems. How might we capitalize on the opportunities for systemic change that now exist? What are the new partnerships, structures, expectations and outcomes we could explore during and after the time of COVID-19?
All are welcome to participate: educators, students, parents/guardians, community partners....
Mar 25: Topic TBD
Feb 25: Topic TBD
Jan 28: What could education look like?
Dec 9: Whose role is it to teach our students?
Nov 19: What do students actually need to know in order to be successful?
Oct 21: Will COVID-19 be the opportunity to reimagine education?