Coping with COVID: Stories and Visuals Towards Change
Offered by:
November Wellness Wednesdays for Educators
Presenter:
Dr. Katie Swacha, Assistant Professor in the English Department at UMaine.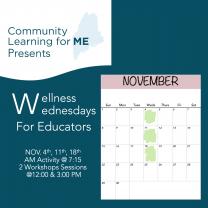 These sessions are designed to build on one another, however, participants are invited to attend as many or few as they can.
This workshop series introduces participants to a visual and story-telling approach called photovoice, which provides the opportunity to create and share stories about their everyday experiences during the pandemic and to develop resources/strategies for 'coping with COVID' in daily life. The workshops are also part of a research study at UMaine that seeks to better understand how people are coping with COVID in their daily lives and to provide a space for sharing stories and developing resources. Each of the three workshops will last 1 hour. 
Workshop 1: The Power of Story (11/4)
Participants will be invited to discuss with one another in break-out groups their responses to questions such as:
How has a typical day for you changed during the COVID-19 pandemic?

What is the hardest thing about 'coping with COVID' in your daily life?
Then, photovoice, the method for this larger study will be explained, including how it can help to leverage people's lived experiences towards change. Resources on photovoice will be provided, which teachers may use to adapt this method to K-12 classrooms. Participants will be invited to create a series of images/videos depicting their daily life during the pandemic to bring to the next workshop session.
Workshop 2: Sharing Visuals and Stories (11/11)
Participants will be given time to write a brief story that describes the visuals/videos that they brought to the workshop in response to the following prompt:
Describe what your visuals/video says about your everyday life during the pandemic and how you are coping. What most helps you to follow COVID-related public health guidelines and what prevents or holds you back from doing so? Participants will then be invited to share and discuss their visuals/stories with other workshop participants in break-out groups.
Participants will also be invited to upload their visuals/stories to the Coping with COVID website as part of the larger study, if they so choose.
Workshop 3: Brainstorming Change (11/18)
Participants will be invited to browse the stories that have been made public on the Coping with COVID website and to brainstorm themes that they notice in these stories regarding how people, particularly teachers, are incorporating COVID-related public health guidelines into their daily lives. Then, based on the themes that they noticed, workshop participants will be invited to brainstorm
1) resources or strategies that might help them and other teachers to cope with such guidelines
2) actionable ways that such resources or strategies might be developed or advocated for in their communities and
3) ideas for incorporating similar activities in their classrooms. After the workshop, teachers will have gained the opportunity to share their stories about how they are coping with COVID, learn about how other teachers are coping, and develop some actionable strategies/resources to use in their communities and classrooms.
Teachers will continue to have access to the Coping with COVID website that is associated with this larger research project and which will house the visuals/stories collected as part of these workshops. Teachers will also have access to a shared Google Doc, which will contain the resources/strategies for coping that workshop participants developed and which they will be invited to continually update as they enact these strategies and share success stories/challenges.