Beyond the Book Club: Building and Sustaining Anti-Racist Work
Offered by:
Maine Youth Action Network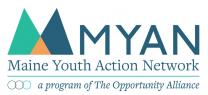 In this workshop, participants will explore/engage with anti-racist pedagogies and practices that they can utilize in their own lives and in their work with youth. This workshop will help participants understand the value and need of an anti-racist perspective and how an anti-racist perspective can be used in our organizational and everyday lives. Participants will practice using a critical lens to approach systems analysis, identified implicit biases, and make space for conversation.  
This workshop is designed to introduce participants working with young people to the work of scholars and practitioners operating in areas of anti-racism and education. Participants will be provided with an overview of foundational skills for identifying root causes of racism and practice having conversations and dialogues with an anti-racist lens. The session is hosted by two white female facilitators and is intended to be an interactive space. Trainers will model anti-racist and equity-informed facilitation practices to reinforce learning throughout the session.
This training runs for 90 minutes