Balancing Your Wellness Wheel: Keeping the Wheels on the Bus
Offered by:
November Wellness Wednesdays for Educators
Presenter:
Stephanie LeBlanc, LCSW, CCS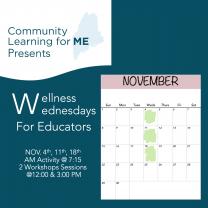 Maximum number of Registrants: 25
Materials: Wellness Wheel worksheet(s) will be sent to participants prior to the session, colored pencils and a journal.
An interactive session which will provide an overview of the 8 dimensions of wellness and how to utilize the wellness wheel to maintain balance in your life. This session will offer a guided activity in completing your personal wellness wheel. Through group discussion and self-reflection participants will process: 1) what is out of balance in their life, 2) how to prioritize life's demands and 3) how to take steps towards their "ideal self".
Upon completion of this session, participants will be offered an optional free, confidential 30 minute personal consult to discuss their wellness wheel and to action plan around their wellness goals.