Art Kits for All
Registration:
Required, Pick up at the Alfond Youth & Community Center or Waterville Farmers Market,
Click here to register
PreK-Grade 4
Grades 5-8
High School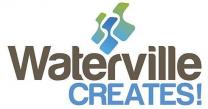 Waterville Creates! has launched a new collaborative program, Art Kits for All. This effort is designed to help keep our communities' families engaged and entertained during this public health crisis by providing free art supplies and instructions for art projects that can be created at home. The kits will be distributed at the Alfond Youth and Community Center (AYCC) and the Downtown Waterville Farmers' Market.