Teaching with Nature II: Social-Emotional Learning and Nature Connection (June 21 - 24th)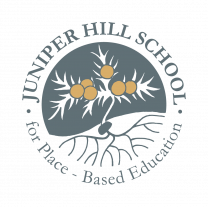 Instructors:
Kate Ziminsky, SEL and MS Curriculum Coordinator, Waynflete School
Anne Stires, Founder and Outreach Director, Juniper Hill School
Location:
Juniper Hill School for Place-Based Education, Alna, Maine
Educators will be introduced to:
the SEL Domains, promoting inclusivity, safety, and belonging, anti-bias and anti-racist practices, and how these values are essential for nature connection teaching and learning;

core competencies of health and wellness education and nature connection;

diverse, high quality, and culturally responsive teaching practices for SEL/Nature Connection and the research that exemplifies the benefits of both for overall health and development;

the how and why of SEL/Nature Connection curriculum that is the backbone of children's experience, and establishing enriching, creative ways to implement the curriculum; and

culturally responsive and specific trauma informed teaching practices, reflecting on our own bias and behavior, and the importance of observation and relationship with them and family in order to know students well.
Program Logistics
The workshop begins at 9:00AM on Monday, June 21st and concludes on Thursday, June 24th at 2:00pm (June 21-23, 9:00am-4:00pm and June 24, 9:00am-2:00pm).
The workshop will be held daily at Juniper Hill School located at 180 Golden Ridge Road Alna, ME 04535.
Participants are responsible for their own lodging, transportation, breakfast & dinner (lunch provided). Please click here to view local lodging suggestions.
COVID-19 Statement: For the safety of all, we recommend that all participants be fully vaccinated. We will follow all guidance from the CDC for gathering outdoors, daily health check-ins, and wearing masks.