MYAN 2021 Virtual Conference (April 15th and 16th)
Offered by:
Maine Youth Action Network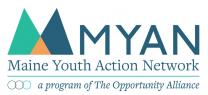 This April, we're hosting our first-ever Virtual Youth Leadership Conference!
We're putting 'connection' at the center. This year has forced us to make relationships and meaningful connections in new ways. We're strong together, and we believe that bringing people into community right now is supremely important.
Our virtual conference is designed by and for middle school and high school aged young people, as well as recent graduates and college-aged youth. Unlike our in-person conferences from years past, this event is free to attend!

Happening across two days (April 15th and 16th), the virtual conference flows between community spaces, interactive workshops, and featured keynotes from storied youth leaders here in the state of Maine.
Our interactive workshops and keynote speakers will connect you to other young leaders and to topics that support your passions, advocacy, leadership skills and interests! More information about our workshops and keynote speakers are coming soon!
Here are some of the topics we're excited to cover:
Youth Leadership
Restorative Practices in Schools
Black Lives Matter and Anti-racism
Adolescent Mental Health & Wellness
Climate Change/Environmental Justice
Body Positivity
LGBTQIA+ Supports and Advocacy
Social Justice
College and Work Readiness
school climate (including student voice in education and/or bullying/harassment prevention)
and issues that impact youth substance use rates.